America's biopharmaceutical companies are at the heart of a robust research and development (R&D) ecosystem that develops more innovative medicines than any other country in the world. In recent years, rapid advances in scientific discovery have ushered in a new era of medicine, transforming our ability to treat, and in some cases cure, some of the most challenging diseases, including cancer, rare diseases and autoimmune conditions. These advancements are due to the productivity of the United States' biomedical R&D ecosystem, which is sustained by a policy framework that is designed to support and advance America's leadership in the innovation of new medicines.
In a new graphic, we explore three key elements at the interface of the biopharmaceutical industry and some of its key partners – The National Institutes of Health (NIH) and academia – that help keep the United States the global leader in advancing biomedical innovation.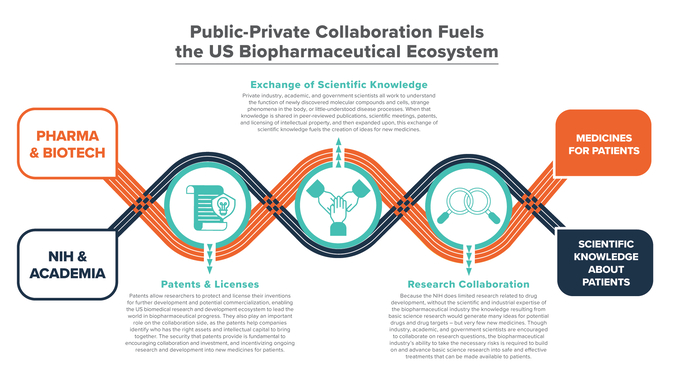 Patents & Licenses
Patents allow researchers to protect intellectual property and license their inventions for potential commercialization by others, enabling the U.S. biomedical R&D ecosystem to lead the world in biopharmaceutical progress and productivity. They also play an important role on the side of collaboration, as the patents help companies identify who has the right assets and intellectual capital to bring together to advance a new idea or an emerging medicine. The security that patents provide is fundamental to encouraging collaboration and investment and incentivizing ongoing research and development into new medicines for patients.
Sharing Scientific Knowledge
Private industry, academic and government scientists all work to understand the function of newly discovered molecular compounds and cells, strange phenomena in the body, or little-understood disease processes. When that knowledge is shared in peer-reviewed publications, scientific meetings, patents, and licensing of intellectual property, and then expanded upon, this sharing of scientific knowledge fuels the creation of ideas for new medicines.
Research Collaboration
Because the NIH does limited research related to drug development, without the scientific and industrial expertise of the biopharmaceutical industry the knowledge resulting from basic science research would generate many ideas for potential drugs and drug targets – but very few new medicines. Though industry, academic, and government scientists are encouraged to collaborate on research questions, the biopharmaceutical industry has the ability to take the necessary risks required to build on and advance basic science research into safe and effective treatments that can be made available to patients.
Public-private collaboration is the fuel that drives the U.S. biopharmaceutical ecosystem. And central to the success of this ecosystem is the leadership that comes from America's biopharmaceutical research companies.
Rather than harming the highly successful U.S. biopharmaceutical research ecosystem and the patients who need innovative treatments, we should look to policies that will support patient access and affordability without undermining the development of tomorrow's life-saving medicines. Through thoughtful, market-based approaches we can continue to support a thriving biomedical research and development ecosystem and allow the biopharmaceutical sector to continue to partner with the public sector to deliver innovative medicines and improve the lives of patients in unprecedented ways.
Explore more about the public-private collaboration fueling the U.S. biopharmaceutical ecosystem here.
Topics: Research and Development, Intellectual Property, R&D Focus